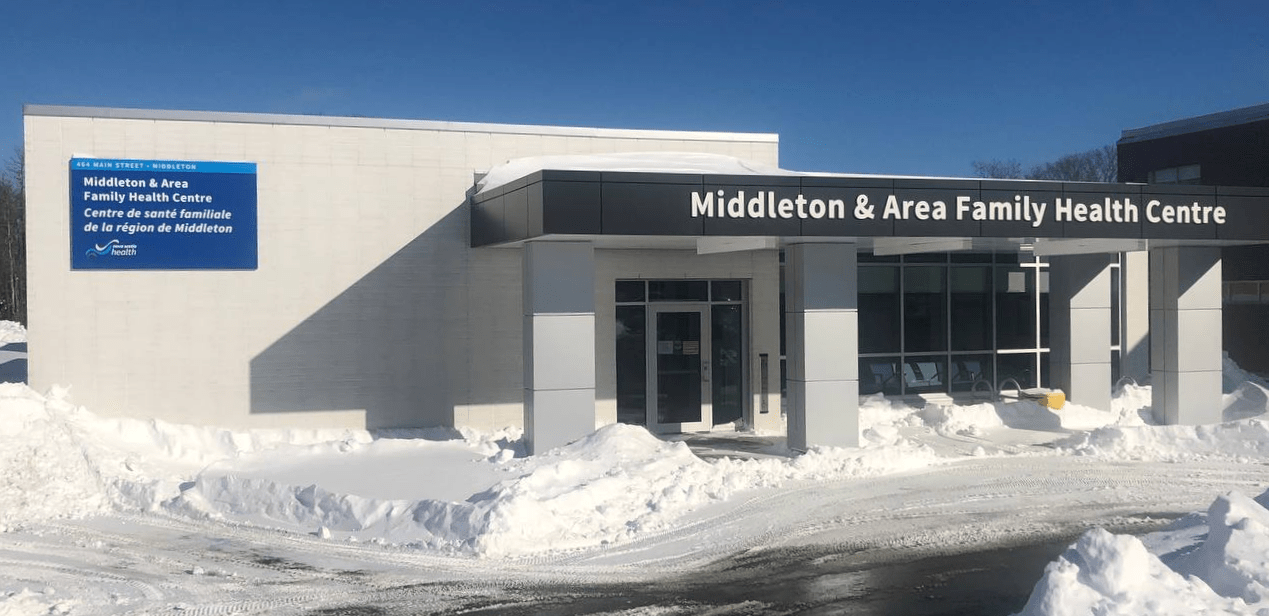 25 January 2022
Based on a story that originally appeared in the Bridgetown Reader in January 2021:
The new multi-million dollar Middleton & Area Family Health Centre is part of a wide-ranging effort to improve primary health care infrastructure across Nova Scotia. It will better serve the needs of residents of Kingston, Greenwood, Aylesford, Middleton, Bridgetown, Springfield, and other communities of Annapolis County and western Kings County. At nearly six times the size of the old medical clinic, the 12,600 square foot fully accessible facility has 26 exam and consultation rooms and houses the Middleton Collaborative Practice team.
This Collaborative Practice team is made up of family physicians, a nurse, social worker, dietitian, nurse practitioner, and administration staff. Together, they provide a full range of health care services including support to in-patients at Soldiers Memorial Hospital. Recent physician retirements in the region have had a significant impact on the health care needs of our citizens. The new Middleton & Area Family Health Centre will be an important piece of infrastructure to attract more doctors to the area who are looking for a collaborative model in which to practice.
Making our region more inviting to medical students, residents, and international graduates is a critical factor in reaching recruitment goals. When surveyed, most medical students and residents identified their ideal practice type as a group practice with physicians and other health-care providers.
As the Collaborative Practice team grows, it will be able to accept more patients.
The new Middleton & Area Family Health Centre will also provide space to train future physicians and other healthcare professionals. The Middleton Collaborative Practice is part of the Dalhousie Family Medicine Residency program, which allows resident physicians to gain experience working in a rural setting. The new clinic will provide appropriate space for residents to work with the family practice team.
The Valley Region's Physician training program has had a very successful retention rate. Over the past 10 years, 26 of 29 residents have stayed in the province and 17 of these have continued to practice in the Annapolis Valley.
COMMUNITY EFFORT
Following the announcement of the Primary Health Care Centre– as it was originally called– by then Premier Stephen McNeil in August 2019, Soldiers Memorial Hospital Foundation committed to a $1 million community campaign as its contribution to the $12 million price tag.
Although the Foundation has been supporting the Hospital's needs since 1972, this has been the biggest project in its history. The Foundation has had considerable success with the campaign and donations are still being accepted towards it.
Kelly Hutton, Chair of the SMH Foundation's Board of Directors, says "It was truly heartening to see our local community rally around this new health centre. We are grateful for the support of our donors, community leaders, government, and our local healthcare community for making this exciting project a reality. Looking ahead, I expect it to be a catalyst in recruitment of physicians and other healthcare providers to the mid Annapolis Valley area."
For more information, please contact the Foundation's Administrative Assistant, Michael Fairn, at 902 825 4202 or [email protected]