14 Wing Greenwood is a partner in a Valley-wide initiative to attract health care practitioners to the community, working with both the Mid Valley and the Annapolis Valley Collaborative committees for recruitment and retention. While military members have access to health care on base, their families often go an entire posting cycle living here without a doctor or access to reliable care. Don Hyslop, centre, is the volunteer Community Physician Navigator for the Mid Valley Committee. He recently visited Deputy Wing Commander Lieutenant-Colonel Eric Travis, right, and Chief Warrant Officer Jamie Rideout to catch up on the latest developments in an on-going campaign.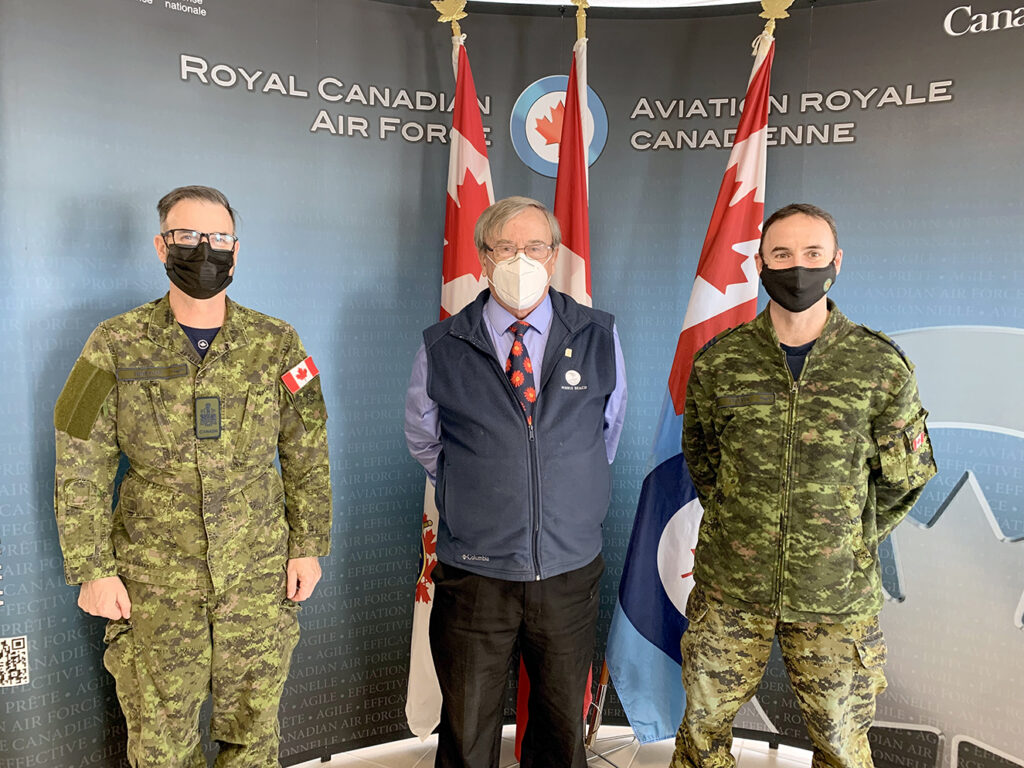 14 Wing Greenwood's military families without a doctor or access to reliable care are not alone. Approximately 81,000 people are on the Nova Scotia 'Need a Family Practice' Registry. In the mid Valley area, there are ~6,000 people— close to 30 per cent of the population— without regular care, which is highest percentage by region in the province.
"My family has spent two and a half years on the waitlist," 14 Wing Commander Colonel Brendan Cook said in a base-wide virtual town hall session on February 23, in response to a question about dependents' access to local health care. "We just heard we're soon to be enrolled with a doctor, but we leave Greenwood in July. I understand."
Fifteen years ago, the Wing partnered with the Nova Scotia Heath Authority to open the Greenwood Family Health Clinic in the Morfee Centre. The base provided the space and NSHA provided the staff, programs, and equipment.
"The thinking was that clinic would predominantly serve military families, with some access by the wider community, and we do have that today—but military families move and may not have taken themselves off the patient list; and other military members have retired here and remain on the list as part of our veteran community."
In 2020, Cook tasked then-Deputy Wing Commander Lieutenant-Colonel Dale King to engage with NSHA with support for the Greenwood clinic, and the wider community on healthcare worker recruitment. A thorough check of the clinic's patient list—with personal phone calls made to many—found some military families were no longer in the area.
"The priority for us is clear: if a space opens up, a military family be considered first—but it won't be everyone, and it won't be soon." Cook said.
'Anyone we can attract helps us all'
Current Deputy Wing Commander Lieutenant-Colonel Eric Travis, King's successor, says "anyone we can attract to Nova Scotia helps us all," using words that sound remarkably close to 14 Wing's motto, "Operate as One."
"Working on doctor and health care worker recruitment is a very different task than my typical military work," he says, "but medical care is a big deal for our military families. If families can't get a doctor while they are here in Greenwood, it affects families' posting decisions—and that means the military member we need for their skill, and the member's potential career advancement—doesn't happen. Everyone loses.
"I'm enjoying working with the community and seeing the work going in to this and the progress being made."
Travis is working mostly closely, recently, with the Mid Valley Region Physician Recruitment & Retention Committee, established by Soldiers Memorial Hospital Foundation to retain and recruit healthcare personnel to SMH's catchment area, from Aylesford to Bridgetown. This is the region where many of those 6,000 mid Valley residents without primary care live.
Don Hyslop is the volunteer Community Physician Navigator for the recruitment committee. He says 14 Wing has already made a difference, providing meeting space, photo and video services, adding recreation and fitness centre information and access to welcome packages for residents and visiting healthcare workers, attending meet and greet events for health care workers and community members, and adding "people power" to targeted initiatives.
"We've seen one-and-a-half physicians added to our catchment area since last summer," Hyslop says. "We're doing it. Everyone who can has to be involved in this. I'd just say, 'thank you.'"
Valley effort all about collaboration and connection
At the eastern end of the Valley, Breanna Hall is the Community Physician Navigator for the Annapolis Valley Collaborative Committee for Doctor Retention and Recruitment. She initially worked with King, tying 14 Wing to some of the Committee's projects, and adding in extras only the base could bring to the table.
"We had a flyover in July of Valley Regional Hospital, just to show appreciation for our physicians and healthcare workers," Hall says, "and we'd added the Wing to an incentive program for nurse practitioners and doctors visiting or new to the area.
"In 2021, we had a 100 per cent retention rate with residents who were working in the Valley, which is phenomenal."
Hull says the eastern Valley committee is certainly "not in competition with" the Mid Valley group: "We're all figuring out plans that work specific areas. We'll collaborate, divide and not duplicate, and we have that built connection that we're here for each other. We both have a great connection with the Wing, and we're happy to partner and support the entire Valley area."
14 Wing will be at the table
All of these efforts and partnership are no different than what many communities across Nova Scotia—and Canada— are doing to increase health care accessibility, but Cook is committed to 14 Wing being involved—and being a "catalyst" wherever possible—in Valley initiatives.
"We've helped bring the community together, and this is truly the solution we need to embrace. We're working with the province and the municipalities and the community to make that happen," he said. "A doctor for one community in the Valley is a doctor for all."
-Contributed by Sara White, Editor, The Greenwood Aurora, 7 March 2022